I also added in a cheesy, incomplete, but useful sexp->html converter that let's us write pretty xml in Scheme.


Now, from the intro page from the Tomcat server, go to the Tomcat Manager (An option on the left side), type the user name you created for Tomcat, stop and restart the root server, (labelled with a "/") go to the page "http://123.234.345.456:8180/servlet/scheme_server", and you should see the following: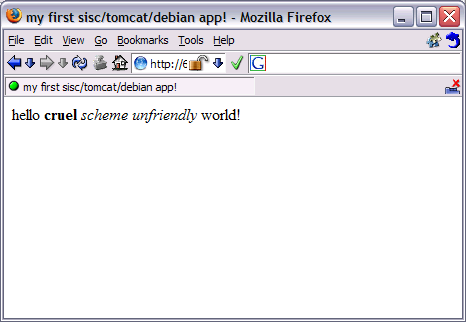 The sweet smell of success! Note that this web application is a completely valid and self-contained java server app: If you run
jar cvf foo.war .
from the root directory of the web application, a java WAR file is created that can be loaded into any Java-enabled web server- Talk about easy deployment!

Now you've got a gzillion things to do to actually have something useful happen... I recommend you look at the calculator.scm and the more extensive servlet code that comes with SISC for more sophisticated possibilities. You may also want to look at the free download of On Lisp which tells you what the whole deal is with continuations and why Lisp/Scheme programmers go googoo over them. Happy Scheme hacking!



THE END